Welcome!
Welcome to the website of the YAA Coaching, the organisation for archery coaching in Yorkshire.

Latest coaching news

Notifications of updates

Our purpose

YAA squads

This site
---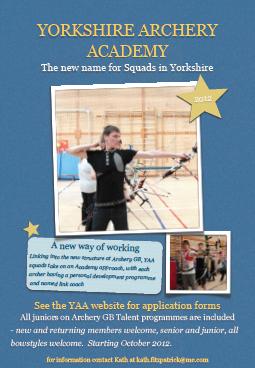 Want to be alerted when a news item appears on this site or a significant change is made? Send an email to yaa@phoenixbowmen.co.uk with the subject line "Subscribe YAA coaching". Once we've confirmed that you want to receive emails from us, we'll add you to the mailing list of people to notify. Your email address will ONLY be used for this purpose and no other.
The purpose of YAA Coaching is to provide the right level of coaching to Yorkshire's archers, from grass roots to world class.

YAA Coaching is part of the Yorkshire Archery Association.


If you have any suggestions for the site or coaching-related news you'd like us to report, please contact the webmaster.
15 May 2013: The NCAS Coaching Conference 2013 will be held in Preston this coming Saturday:


Northern Counties Coaching Conference 2013
25 April 2013: Photos from the Yorkshire Academy day have been added to the site:


Yorkshire Academy April 2013
Kath Fitzpatrick has been appointed Talent Coordinator and Coach to the new Northern Performance Academy:


AGB Performance Talent Team Coaches
The county's certificate of Employers Liability Insurance has been updated:


YAA insurance certificate 2013 (PDF)
6 March 2013: The Yorkshire Archery Academy will be presenting a workshop on coaching methods and techniques from the National Performance Academy:


Archery GB Coaching Workshop - CPD
29 October 2012: The dates of the next Yorkshire Archery Academy sessions have been changed:


Yorkshire Archery Academy change of dates
25 October 2012: A gallery of photos from the the first session of the new Yorkshire Archery Academy has been added to the YAA site:


Yorkshire Archery Academy 2012
7 October 2012: The Yorkshire Archery Academy has been launched - the new YAA squads system:


Yorkshire Archery Academy
13 September 2012: The Humber Sports Partnership has issued the sixth edition of Courses For All:


Humber Sport - Courses for All
Humber Sports Partnership Coaches Conference will be held in Hull on Tuesday the 16th of October:


The Humber Sports Partnership Coaches Conference 2012
6 September 2012: The Humber Sports Partnership has announced upcoming coach education opportunities:


Humber SP coaching education
16 August 2012: The dates of the next Level 2 Coach training course have changed. Also, spaces are available on this course:


Change of Level 2 dates
10 July 2012: SRSB Sheffield Blind Archery will be holding a coaching weekend for archers, helpers and coaches interested in visually impaired archery:


Coaching weekend for visually impaired archery